Bitcoin Merchant of the Day - June 25, 2014
Shipping: Worldwide | Cost Range: $1 - $5000
About
EcoDirect is a seller of all sorts of friendly energy-saving products: solar panels, batteries, turbines, LED light bulbs, and more. If you're looking to save on your next energy bill while also spending your Bitcoin, EcoDirect's your one-stop-shop.

EcoDirect just recently started accepting Bitcoin, and has an incentive for doing so: use "bitcoin" as a coupon during checkout and get 10% off your order!

To promote Bitcoin growth, EcoDiret is also planning on holding onto the first $2,000 worth of Bitcoin they receive and try to find suppliers to spend it with.
Contact
Online: Support Page
Address: 2834 La Mirada Drive, Suite E, Vista, CA 92081 USA
Phone: See Support Page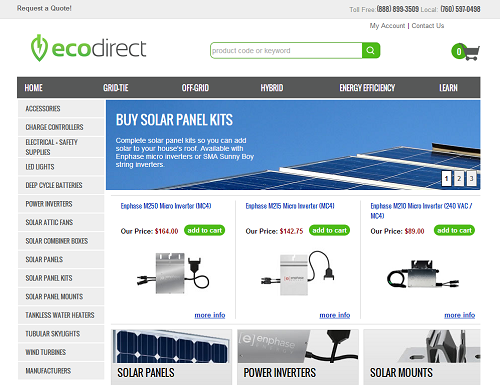 EcoDirect's homepage