Bitcoin Merchant of the Day - June 9, 2014
Shipping: Worldwide | Cost Range: $5 - $10
About
Hot sauce lovers rejoice! PexPeppers is a small Pennsylvania business that specializes in a fantastic selection of sauces, jellies, salts, and seeds (but mainly hot sauces)!

The selection is good, the site is simple, the customer service is great, and the prices are as you'd expect for gourmet sauces. PexPeppers always uses natural ingredients in their products.

PexPeppers came to into the cryptocurrency spotlight when the owner started accepting cryptocurrencies and saw their business boom, after making a post over on reddit in the Bitcoin subreddit.

PexPeppers sells both online and in-store, both venues accepting Bitcoin.
Contact
Online: Support Page
Address: 132 Race Street Sunbury, PA 17801, USA
Phone: +1 (570) 238-7628
Also Accepts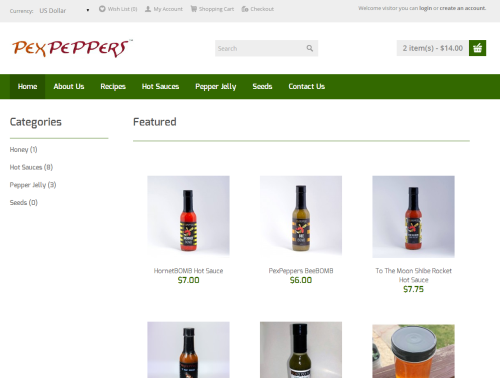 PexPepper's Homepage